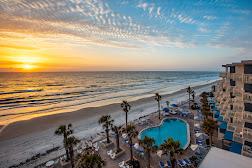 The 2024 Winter Conference of the National Academy of Forensic Engineers will be held in Daytona Beach, Florida, beginning Friday, January 19 at 8:30 a.m. local/Eastern time with the NAFE Board meeting, which is open to all current members in good standing.  
This year, there will be a fantastic Friday afternoon technical tour of Embry-Riddle Aeronautical University (ERAU) nearby (advance purchase ticket required), bus loading at 2:30 p.m..  There will be a ticketed Friday cocktail hour and Awards dinner at the hotel beginning at 6 p.m., and the President's Distinguished Service Award will be presented to Bruce Wiers, PE, DFE.
After the traditional meet and greet microphone welcome on Saturday morning, the Technical Session which will feature presentations on a variety of topics: sidewalk microtexture measurement, fires caused by open neutrals, historical photogrammetry of the JFK assassination scene, cannabis industry forensics, applying reverse projection photogrammetry, and artificial intelligence (AI) applications for improved accuracy. 
The Sunday Educational and Ethical seminar will stimulate the crowd with talks on successfully engaging the media minefield, building a practice with the insurance industry, a primer on policy papers, and highlight an insider's look at the STS-107 Columbia incident.
The conference proceedings will end at 5 pm Sunday, January 21, 2024.